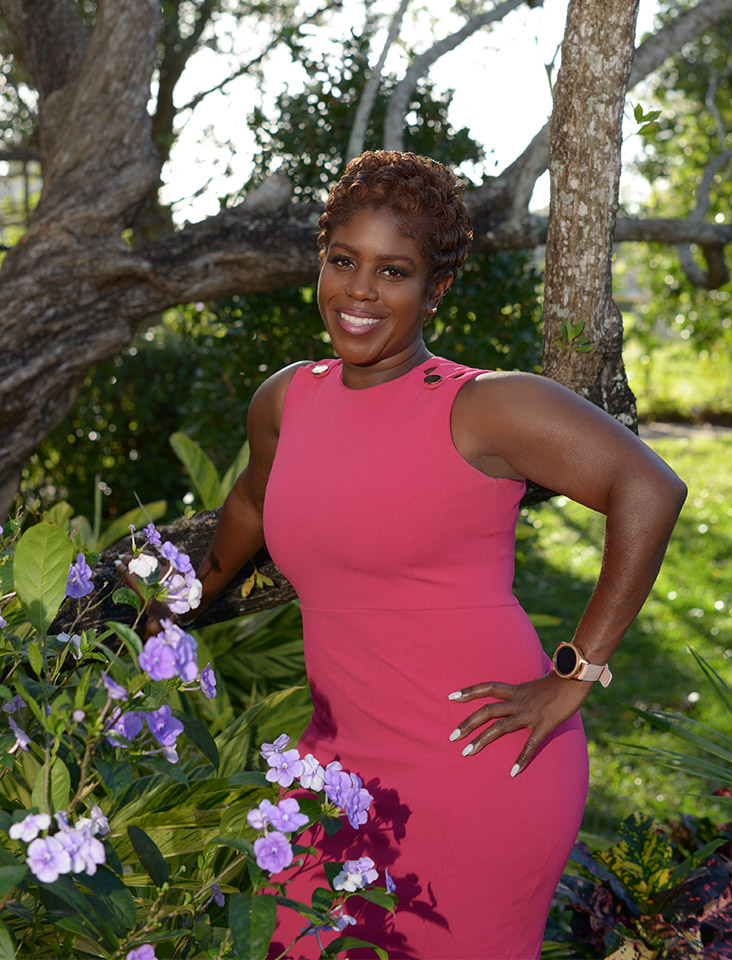 Biography of April R. Martindale, M.B.A., J.D., Esquire
April R. Martindale is the Owner/Managing Partner of Martindale Law, a law practice located in Broward County, Florida where she focuses on Contract Law, Intellectual Property, Business Law and Entertainment Law. April is licensed to practice law in the State of Florida and the U.S. District Court, Southern District of Florida.
Ms. Martindale earned her Bachelors of Science Undergraduate degree from Florida Metropolitan University, where she graduated magna cum laude in Paralegal Studies. In recognition for her efforts, April was on the Dean's List or President's List every semester throughout college.
April earned a Masters of Business Administration in Management from Strayer University where she graduated summa cum laude, and was inducted into Golden Key International Honor Society, and Alpha Chi National College Honor Society in a period of 11 months.
April subsequently earned her law degree from Nova Southeastern University Shepard Broad College of Law and was chosen by her peers and professors as the December 2015 Graduate Reception Speaker. Throughout law school, April served as treasurer for the Evening Law Student Association and participated in educating 1L's and 2L's about the pitfalls to avoid in law school and the tools necessary to succeed.
April is a current member of the Florida Bar, Broward County Bar Association, American Bar Association, South Palm Beach County Bar Association and Gwen S. Cherry Bar Association, IP Law Association of Florida (IPLAF), Florida Association of Women Lawyers and ASCAP-American Society of Composers, Authors and Publishers. In addition to practicing law, April is also a co-founder and managing member and director of a 501(c)(3) non-profit organization, New York Wins, Incorporated, headquartered in the city where she was born and raised. New York Wins, Inc. is designed to provide charitable and educational resources that train the mindset of the younger generation to engage with purpose, organize with passion, and contribute to the well-being of their communities, while learning the prerequisites of becoming socially responsible and progressive citizens.
April is also a committee member of the Mom's in Law School program under the Children's First Foundation, a 501 (c)(3) non-profit organization located in South Florida. The Moms in Law School program will provide scholarships to single moms in Florida law schools to help pay for tuition, books, living expenses, and childcare as they improve their lifestyle to benefit their children. Ms. Martindale went through law school as a single divorced mother of three amazing children and came out shining more than ever with her passion and determination. She became involved in the organization with the goal of inspiring and encouraging other similarly situated single mothers.
In March 2018, Ms. Martindale appeared as a guest lecturer at Georgia State University's Alpharetta Campus where she taught students about the intersection of law and mental health. She strives to educate the youth and society on the issues affecting the world and what steps we as individuals and businesses can take to promote positive and effective change.
​
In August 2018, April participated as a panel speaker alongside the Honorable Judge Robert Diaz at the Nova Southeastern University Shepard Broad College of Law introduction to legal Professionalism and Ethics Program (PEP) where she gave practical advice and words of wisdom to incoming law students about the concepts of professionalism and professional identity; focusing on the need for law students and lawyers to go beyond merely following the rules.
In October 2018, April was a featured guest motivational speaker at the Leaders Recognizing Leaders Conference in Fort Lauderdale where she challenged youth and young adults aged 15-25 years on how to be leaders and young diplomats to reshape their mindsets for community service, educational development, and global communication in local, national, and international communities.
In March 2019 Ms. Martindale returned to Georgia State University to lecture at the Perimeter campus where she taught students about the history of mental illness, its effects and the intersection of law and the criminal justice system.
April has lectured at her alma mater, NSU Law in April of 2019 and April of 2020 about the challenges of overcoming adversity and obstacles to become an owner and managing partner of her own firm, Martindale Law. Ms. Martindale has since received positive feedback from students who advised that her story of courage and determination inspired them to not give up regardless of how many obstacles they may face.
Most recently, April was appointed as a Historian to the Executive Board of Gwen S. Cherry Black Women Lawyers Association for 2020-2021. Ms. Martindale was also selected as a fellow into the Florida Bar Business Section Fellowship Program for the 2020-2022 class. In addition, April was accepted into the Small Business Executive Program under the Jim Moran Institute for Global Entrepreneurship-FSU College of Business for Fall of 2020.
April finds a way to actively balance single parenthood, educational commitments, professional obligations, and personal responsibilities and commitments. April lives in Coral Springs and is a mother of three phenomenal children, and their beloved shih tzu dog, Prince.